Liquid Chalk Vs Dry Chalk for Rock Climbing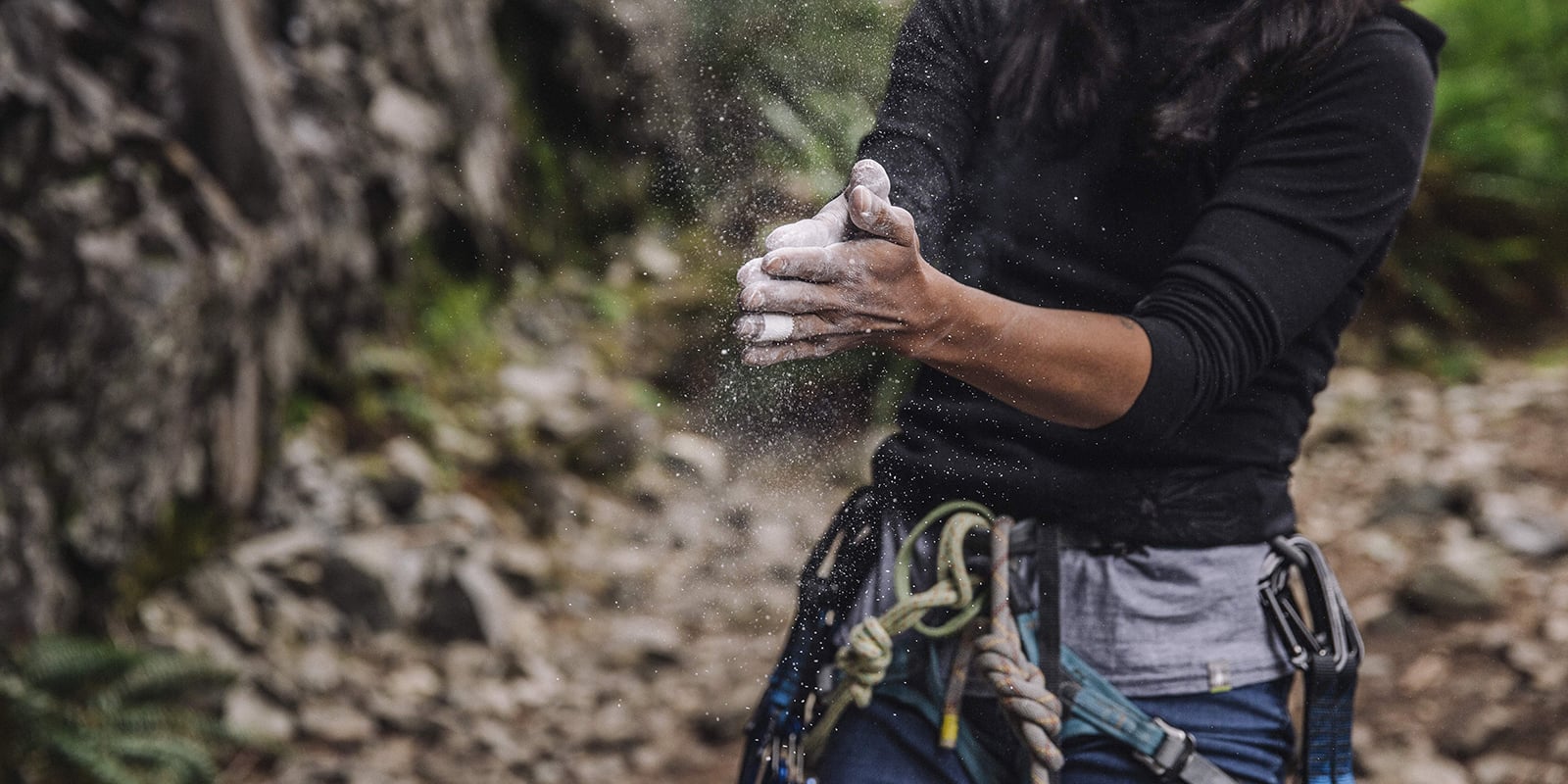 As every climber knows, chalk is an essential tool for the sport. Whether you're scaling a small indoor practice wall or you're at a new rock face and challenging yourself on a new grade - chalk is essential.

If you're a regular climber, you've most likely heard of or seen liquid chalk before. Some climbers swear by liquid chalk, while others only like powdered chalk.

But which chalk is the best for climbing?

Why use liquid chalk?

Liquid chalk is lighter and more compact than regular powdered chalk to carry around. Liquid chalk is also a cleaner alternative because powdered chalk will coat absolutely everything it touches (as I'm sure you're already aware!).

The main benefit of using liquid chalk over regular powdered chalk is that is lasts much longer. Much longer!

Most climbers find that liquid chalk can last 20-30 minutes on average, which is way longer than powdered chalk.

Liquid chalk however, has it's pros and cons!

How Does Liquid Chalk Actually Work?

The main ingredient in our liquid chalk formula is isopropyl alcohol. This is the main chemical that gives liquid chalk it's unique qualities. Isopropyl alcohol is a magnet for water (or sweat) and grease/dirt - that's why it gives you so much grip and make your hands feel like octopus tentacles!

Liquid chalk actually works it's way in to the grooves of your fingerprints and absorbs any moisture, causing your grip to increase!

What are the downsides to using liquid chalk?

Though liquid chalk is amazing and has many pros, it does have some downsides for some people.

For the vast majority of people, liquid chalk is an amazing choice for climbing and bouldering, but some people have adverse side effects to liquid chalk formula!

Who shouldn't use liquid chalk?

If you find that you frequently have dry skin on your hands, then you shouldn't use liquid chalk for climbing as the isopropyl alcohol can dry out your skin even more.

Climbers who find their hands to already be dry while climbing are usually the minority of climbers who shouldn't use liquid chalk frequently to prevent their hands from becoming drier using liquid chalk.

How can I prevent my hands from drying out from liquid chalk?

For those who want to prevent their hands from drying out while using liquid chalk, the best way to do so is to just use a smaller amount of liquid chalk overall. Whether that means reapplying your liquid chalk once an hour or simply using less overall while you're climbing - this can save your hands from drying out from the isopropyl alcohol in the compound.

What's the best way to use liquid chalk while climbing?

If you're a climber interested in liquid chalk to bring your edge to the next level, there's a very simple trick you can use for your next (and future) climbing sessions:

1. Apply a liquid chalk base layer at the start of your climbing session to build a good dry base

2. Reapply with liquid chalk or powdered chalk throughout your climbing session (the base layer of liquid chalk will keep your hands dry and act as an antiperspirant throughout your climb

The only downside to this method is that you'll now have to carry both liquid chalk and powdered chalk to your next climbing sessions!
Check out our patent-pending MonkaGrip Liquid Chalk to bring your climbing game to the next level.